This year I am trying to learn how to be a better cook. One of the ways to do that is by trying a new recipe at least once a week with the aim being to try a minimum of 52 new dishes. Inspired by the concept of Julie and Julia but using the Internet of Things to diversify all my offerings. Between the InstantPot, KitchenAid, Sous Vide machine, and the new pot and pan set we got for Christmas, the kitchen is stocked with endless options of intrigue.
My first one was Buffalo Chicken Stuffed Spaghetti Squash from The Real Food Dietitians. The original blog can be found here. The author has an easy InstantPot shredded chicken recipe which is used extras in salads for lunches. That was the first step.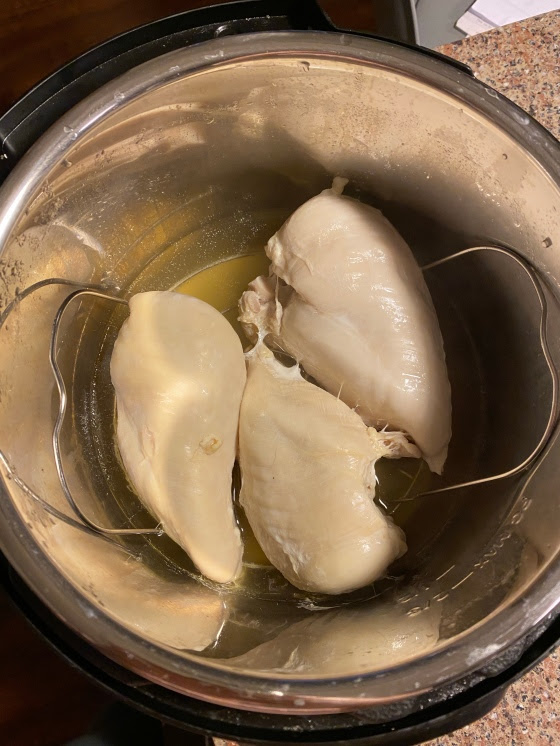 I used the bear claws to break open the chicken to feel fancy even though a fork works as well.
I baked the spaghetti squash by itself then when it was ready gutted it for all the pasta like goodness. In a bowl I mixed all the spaghetti squash with peppers, celery, chicken, buffalo sauce and ranch then returned back to the shell to bake together. It was very stuffed after adding all of that back in. Here are the results! I don't think I'll ever think of spaghetti squash as an actual pasta substitution but it was a tasty dish for sure! I'm always into buffalo chicken things and this one was fun. I put leftovers in tortillas with avocado for tacos and really enjoyed that!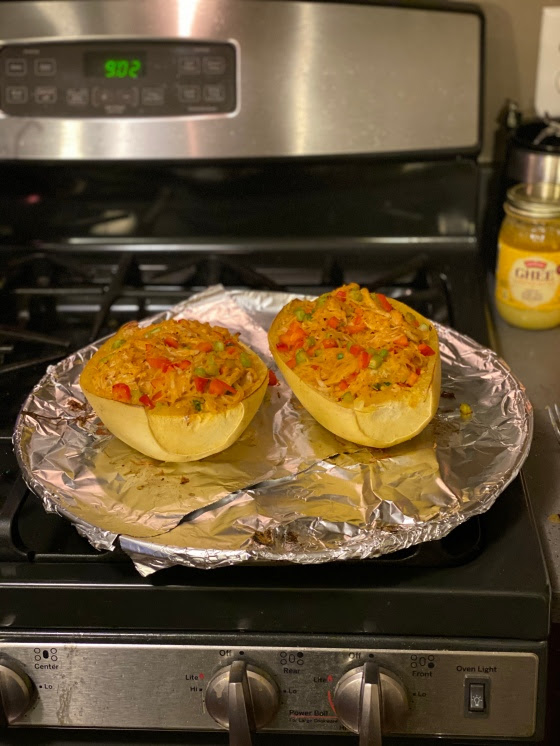 The second recipe of the year was for Baked Chicken Fajita Roll-Ups from Eat Yourself Skinny. See the original recipe post here. Its super simple and was so tasty. The biggest prep part was marinading the chicken which I did overnight. The blogger suggests olive oil plus some spices – I used it as a guide and threw in as much of the spices I had in the pantry and added a few random ones beyond that.
The instructions say to use a meat tenderizer to flatten out the chicken but I do not have one. I used a wooden spoon instead which kind of worked but regardless was fun to try. I got the chicken breasts as flat as possible before marinading.
The next day, I rolled the chicken breasts around some peppers and popped in the over. Super simple. I didn't have toothpicks to secure the wrap but it wasn't an issue. The chicken came out so tender and delicious. I was super impressed and loved every bite! This was also great for leftovers. It is such a clean little meal!
To round out my plate, I added some greens, sautéed onions and mushrooms, sweet potatoes and topped the chicken breast with hot sauce and jalepenos.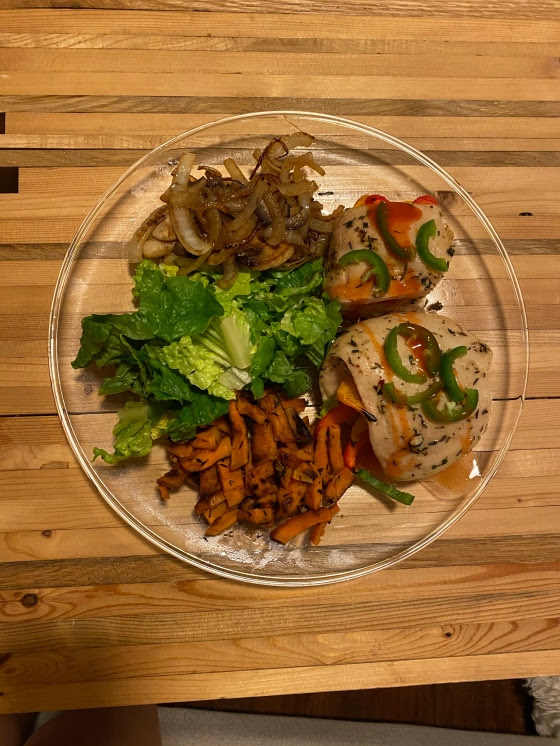 The third recipe for 2020 was Instant Pot Turkey Paleo Pumpkin Chili from Real Food Whole Life. You can find the original recipe here. It was fitting timing for me to try my first chili attempt during the first snowstorm of the year. The blog instructions were great and easy to follow. My only issue was cooking the turkey because it wasn't all the way thawed when I took it out of the fridge to cook it – I had to cook for a little longer than expected but it was totally fine. Oh then I also set the Instant Pot to pressure cook for 10 minutes but it didn't kick on for a while and I wasn't sure why. Upon further inspection (after not noticing for a bit) I realized that the vent was open instead of sealed so it did not start the cooking time until I remedied that issue. After that it was smooth sailing.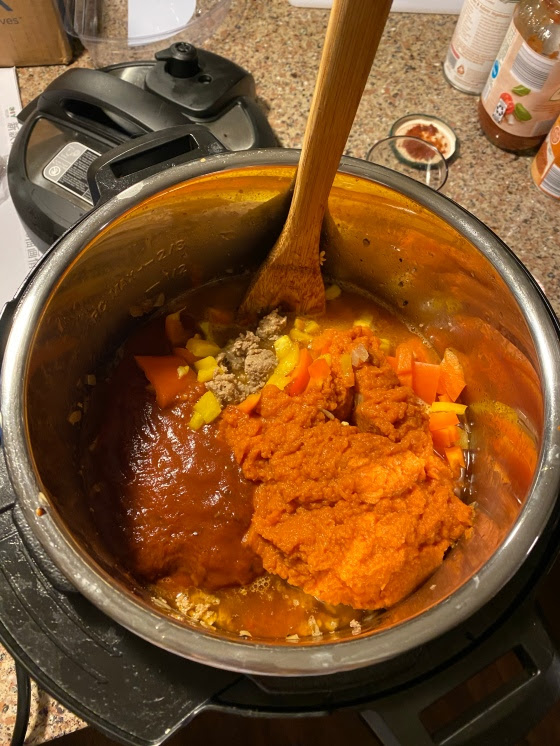 It came out looking like chili and we added some fun toppings. I was proud of myself for refraining from adding sour cream and cheese to the chicken breasts but couldn't help myself with the cozy chili. I really enjoyed the chili! Brian did as well but also told me later that it wasn't quite what he was wanting when I said I was making chili. I think the pumpkin and turkey were part of that. I'll try some more classic chili recipes later this winter I'm sure. We ate leftovers on top of baked potatoes!
And I paired the meal with red wine because…snow storm! All the cozy things!
I'm really happy with my first few recipe attempts and am excited to keep going with this project! Hit me up with all your favorite foods!